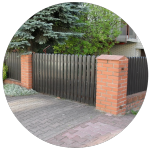 Plastic Fences – Wide Selection
You will find plastic rails in several distinct systems, which will give your fence a new dimension.
Our Plastic Rails are characterized by, among other things:
– A variety of designs: modern shapes, woodgrain, Greek type or traditional patterns
– Low prices: we price our products so that you can find affordable for every pocket
– High quality: the components used in production meet the highest standards. The rails serve for years.
Types of PVC Railings :
Other useful information